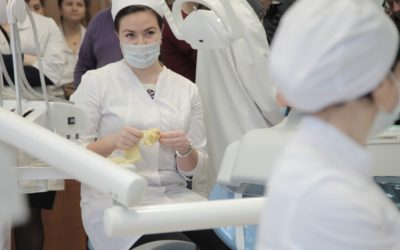 The faculty offers a five-year program of Dentistry. The teaching-learning process is meant to emphasize the development of practical competence. Careful attention is given to the development of the students' personality and work habits, stressing on personal skill that are key factors for successful careers.
Types of professional activity for which the graduates of the dentistry degree have mastered during their studies:
preventive
diagnostic
medical
rehabilitation
psychological and pedagogical
organizational and management
research
A graduate who has mastered the dentistry program, in accordance with the type of professional activity, to which the specialty program is oriented, is ready to solve the following problems: 
preventive activities: 
prevention of the occurrence of diseases among the population through preventive and anti-epidemiological measures;

 

participation in preventive medical examinations, medical examinations, dispensary 

observation;

 
collection and medical-statistical analysis of information on indicators of dental morbidity of various age-gender groups of the population and its impact on their health;

 
diagnostic activity: 
diagnosis of dental diseases and pathological conditions of patients; 

 

diagnosis of emergency conditions;

 
examination of temporary disability and participation in other types

 

medical expertise; 

 
medical activity: 
the provision of dental care on an outpatient basis and in an inpatient setting;

 
participation in the provision of medical care in emergency situations, including medical evacuation;

 
rehabilitation activities: 
participation in medical rehabilitation and spa treatment of patients with dental diseases;

 
psychological and pedagogical activity: 
the formation of motivation among the population, patients and members of their families aimed at preserving and strengthening their health and the health of others;

 

teaching patients the basic hygiene measures of a health-improving nature that contribute to the prevention of dental diseases and promote health;

 
organizational and management activities: 
application of the basic principles of the organization of dental care in medical organizations and their structural divisions;

 

Creation of 

favorable

 conditions for patients staying and working activities in medical organizations of the dental profile;

 

maintaining documentation in the field of their professional activities;

 

organization of medical examination;

 

participation in the organization of an assessment of the quality of dental care for patients; 

 
compliance with basic information security requirements; 

 
research: 
analysis of scientific literature and official statistical surveys, participation in statistical analysis and public presentation of the results;

 

participation in the solution of individual research and scientific and applied problems in the field of health and medical sciences for diagnosis, treatment, medical rehabilitation and prevention.

 
Qualification : Physician in Dentistry
Duration : 5 Years